Friday Nov 20th
The New Verso Nightclub
featuring
Chris Garcia
(France)
G-Roy (Opening Set)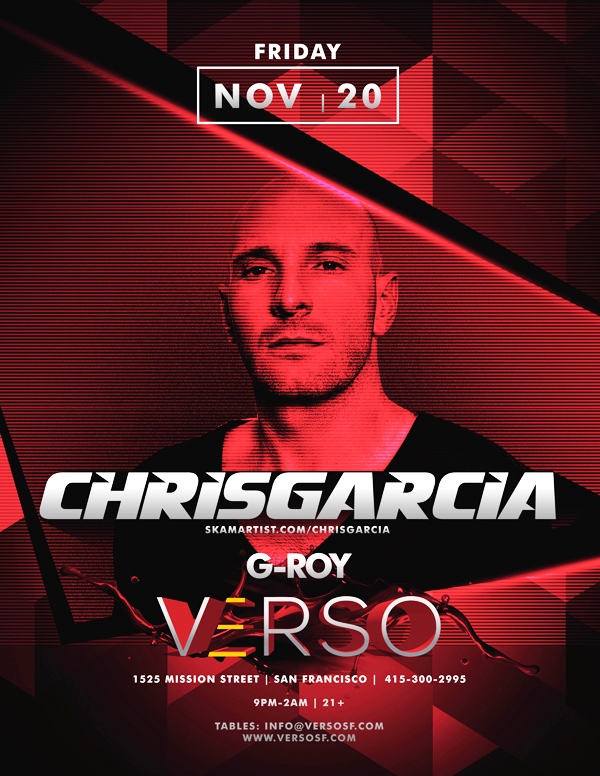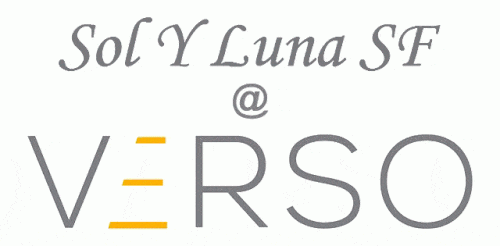 Verso
is San Francisco's newest electronic music venue featuring weekly club events with the worlds best DJs and live performers. The space features a state-of-the-art sound system featuring fifteen speakers and six subwoofers from the Dutch company Alcons Audio, which will guarantee premier, distortion-free sound quality for revelers.
The Latin word - Verso, which translates to "on the turned page", is located in the space of a former printing press. The refreshed interior showcases a comfortable, modern design created by Napa-based ShopWorks. The space offers a study in contrasts – high ceilings, walls of raw exposed brick and concrete flooring reflects the space's industrial legacy, while tufted banquettes and inviting sofas and ottomans, reminiscent of British private clubs, create a comfortable and relaxed vibe.
CHRIS GARCIA
His endless desire to create and improve led Garcia to the studio to try his hand at production in 2009. Since then, Chris has had several top 10 hits in Europe after signing with Universal Music. His recognition as a worldwide talent began at remake of "Rhythm of the Night" entered the coveted Top 100 Singles chart in France in July of 2010 and stayed on the chart until February 2011. The track received massive play by DJs in the U.S. and was played on a weekly basis at Amnesia for almost 8,000 attendees.
Saturday Nov 21st
The New Grand Nightclub
featuring global superstar
ADRIAN LUX
(Sweden - Ultra Records)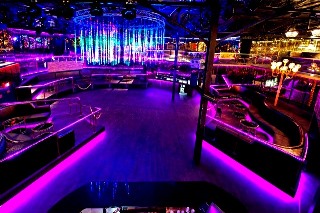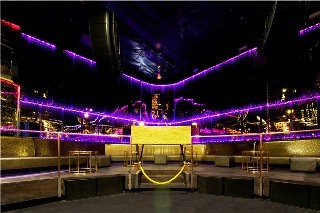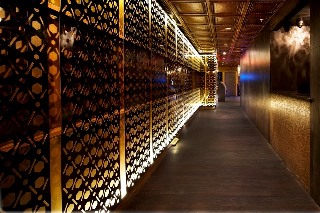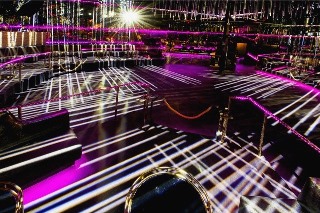 Please join us at San Francisco's newly revamped nightclub - The Grand featuring global superstar DJ Adrian Lux from Sweden!
The Grand
The Grand is the newest addition to San Francisco nightclub family. This beautiful space is absolutely made for fun birthday celebrations, special events and simple dance nights out.
ADRIAN LUX
Raised in Stockholm by a former punk rocker and a fashion photographer/filmmaker, Lux was as restless as his parents from an early age. For instance, when he wasn't learning how to play guitar, Lux was landing modeling gigs for such major campaigns as the Swedish postal service and Stockholm's answer to Barney's, Nordiska Kompaniet. He didn't take music seriously until he was 17, however. That'd be the year his friends used their secondary "gymnasium" education as an excuse to build hip-hop beats. Dancehall and Dipset were Lux's two obsessions at the time, although all that changed once he graduated and took a trip to Brazil. "When I got there, the music wasn't what I expected at all," explains Lux. "In some ways, it was better—like I didn't hear samba music more than five times. Instead, everyone was mostly into cool electronic artists." And by that, he means everything from electro to drum 'n' bass. Not to mention traces of moonlit techno and moody progressive house. Without so much as a thought, Lux gravitated towards the type of dance 12's that trigger long-buried memories and make you move. Songs like his own "Strawberry" single, a sun-stroked mix of massive melodies and laser-guided synth lines. "Can't Sleep" is just as relentless in its pursuit of the perfect beat. It's also propelled by a chorus that calls to mind the peak hour platters of Kaskade, deadmau5 and Tiësto. No wonder why Pete Tong, Basement Jaxx and Sebastian Ingrosso are all major Lux supporters already. "I want to provoke a reaction, whether it's positive or not," he says. "Of course not everyone's gonna like what I do. That's just the way it is. But it's more fun to have someone say 'this sucks' than 'well, this is nice.'"
The Grand Nightclub
520 4th Street
San Francisco

For Bottle Service Reservations, email SOLYLUNASF@yahoo.com

Feel free to invite whoever you want and share this invite with friends and family!!!